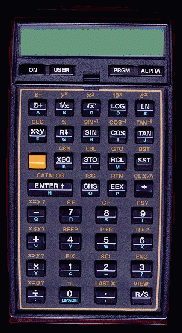 New: SIM41 for Windows (SIM41W)

First version (0.01) released at: 2004/06/20

Goal: To create a Windows version of SIM41 with several enhancements.

Current Status:

Classic Version: 1.10 .Tones (wav files) integrated on main distribution now.

Extended Version: 1.3



Implementation history




sim41w basic version with 4 levels stack - Version 1.10 for windows 10 (64 bits) updated at 2021/05/16


This version has a recent revision of all printer commands.
Also, it has fixed issues when dark themes are used on windows 10, (some windows did not show text.)
You need to install the Runtime version 9.0 service pack 2 previously



This HP-41 emulator requires the calculator run time library. Install it first.

Also read the file whatisnew.txt included with the calculator



sim41 with configurable stack - Version 1.3 for windows 10 (64 bits) updated at 2020/02/04 You have to install the Runtime version 9.0 service pack 2 previously



The configurable stack can be prefixed between 4 to 100 levels



Runtime for Windows XP, Windows Vista (32 bits) and Windows 7 (32 bits) Calculator runtime Version 50a updated (2011/09/07)



readme.zip - (3.113 bytes) Readme file for all skins released



testprg.zip - (1.444 bytes) Test Programs updated at 2004/09/18



Tones for sim41 Provided by Martin Andres Verens (2013/05/16)



Factors for sim41 Factors are numbers you can multiply together to get another number (2014/06/25)



Comments and questions welcome.


Alvaro Gerardo Suárez

© 2004 algesuar@yahoo.com


The publicity on this site is not mine. The hosting is free and put publicity on these pages.

I tested DOWNLOADS OK with the following navigators: FIREFOX, OPERA, MICROSOFT EDGE, PALE MOON. Soon I will
test more Internet navigators
I found problems using Chrome due to new politics of Google
(IF YOU HAVE HISTORY OF ONLY A FEW DOWNLOADS CHROME BLOCKS THE FILES) Personally, I do not know the limit but
the number of downloads are below certain number. Only Google knows that number.
---